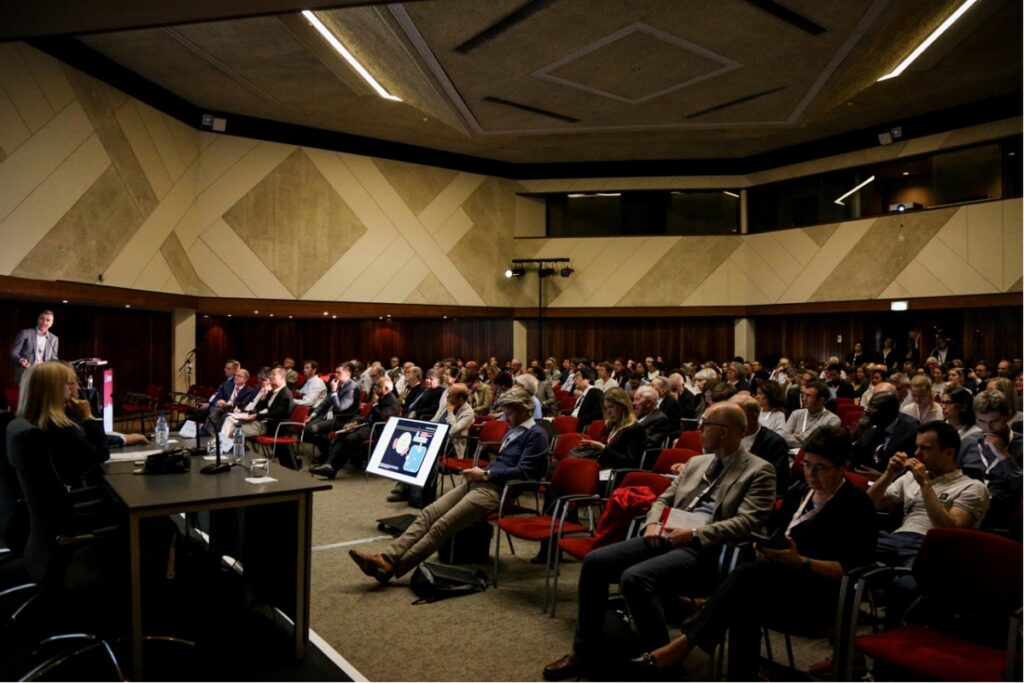 ApoB – friend and foe:
Jan Albert Kuivenhoven, Groningen, The Netherlands
Jan Albert Kuivenhoven started with an MSc degree in molecular biology and finished his PhD on the genetics of human high-density lipoprotein at the Academic Medical Center (AMC). After a postdoc appointment at the Department of Biology, Massachusetts Institute of Biology, he established his own research group at the AMC. His current research is focused on identifying novel lipid genes using an extreme genetics approach.
Cholesterol-rich apolipoprotein (apo) B-containing lipoproteins, of which low-density lipoprotein (LDL) is the archetypal representative, play a fundamental role in the genesis and promotion of atherosclerosis. Mechanistic and genetic studies suggest that assessment of the atherogenic particle subpopulations (LDL and very-low-density lipoprotein [VLDL]) rather than their lipid content may be a better predictor of cardiovascular risk. Alternatively, with accumulating evidence that apoB is integral to lipoproteins exerting their causal effect on risk for cardiovascular disease, measurement of apoB may be preferable.
While LDL cholesterol is conventionally used as a predictor of cardiovascular risk, its use is not without issues, especially when calculated measures of LDL cholesterol are used. In individuals with diabetes or metabolic syndrome, LDL cholesterol levels may not reflect the atherogenicity of the abnormal lipid profile associated with elevated triglyceride-rich lipoproteins. In these patients, apoB is a more accurate measure of risk rather than the concentration of cholesterol contained in lipoproteins. Evidence from epidemiologic studies also supports apoB as a better predictor of cardiovascular risk and response to treatment than measurement of LDL cholesterol. These findings make a case for considering apoB as a priority lipid target in prevention of cardiometabolic disease.
Although improvement in standardization and accessibility is needed, the totality of evidence supports apoB for both risk assessment and as a treatment target in routine clinical practice.
Key references
Zanoni P, Panteloglou G, Othman A, Haas JT, Meier R, Rimbert A, Futema M, Abou-Khalil Y, Nørrelykke SF, Rzepiela A, Stoma S, Stebler M, Dijk FV, Wijers M, Wolters JC, Dalila N, Huijkman N, Smit M, Gallo A, Carreau V, Philippi A, Rabès JP, Boileau C, Visentin M, Vonghia L, Weyler J, Francque S, Verrijken A, Verhaegen A, Van Gaal LF, van der Graaf A, van Rosmalen BV, Robert J, Velagapudi S, Yalcinkaya M, Keel M, Radosavljevic S, Geier A, Tybjærg-Hansen A, Varret M, Rohrer L, Humphries SE, Staels B, van de Sluis B, Kuivenhoven JA, Von Eckardstein A. Posttranscriptional regulation of the human LDL receptor by the U2-spliceosome. Circ Res 2021;doi: 10.1161/CIRCRESAHA.120.318141.
Loaiza N, Hartgers ML, Reeskamp LF, Balder JW, Rimbert A, Bazioti V, Wolters JC, Winkelmeijer M, Jansen HPG, Dallinga-Thie GM, Volta A, Huijkman N, Smit M, Kloosterhuis N, Koster M, Svendsen AF, van de Sluis B, Hovingh GK, Grefhorst A, Kuivenhoven JA. Taking one step back in familial hypercholesterolemia: STAP1 does not alter plasma LDL (Low-Density Lipoprotein) cholesterol in mice and humans. Arterioscler Thromb Vasc Biol 2020;40:973-985.
Rimbert A, Dalila N, Wolters JC, Huijkman N, Smit M, Kloosterhuis N, Riemsma M, van der Veen Y, Singla A, van Dijk F; Biobank-Based Integrative Omics Studies Consortium, Frikke-Schmidt R, Burstein E, Tybjærg-Hansen A, van de Sluis B, Kuivenhoven JA. A common variant in CCDC93 protects against myocardial infarction and cardiovascular mortality by regulating endosomal trafficking of low-density lipoprotein receptor. Eur Heart J 2020;41:1040-1053.
Daniel Gaudet, Montreal, Canada
Daniel Gaudet is Professor of Medicine, Université de Montréal (UdeM), Scientific Director of the UdeM Community Genetic Medicine Center and its Clinical Lipidology and Rare Lipid Disorders Unit, and President and Scientific Director of ECOGENE-21, a not-for-profit organization devoted to access to innovation in precision medicine. His main clinical and academic activities focus on rare dyslipidaemias and the translation of new knowledge derived from extreme phenotypes to more common forms of diseases. Dr Gaudet has coordinated more than 200 studies involving the development of screening tools, technologies or therapies for severe dyslipidaemias or related disorders, and has authored more than 300 scientific publications in peer-reviewed journals, including the New England Journal of Medicine, The Lancet, Nature Medicine and Nature Genetics
Low-density lipoprotein cholesterol (LDL-C) is undoubtedly the priority target for lipid lowering therapy to prevent atherosclerotic cardiovascular disease (ASCVD). However, despite maximally tolerated LDL-C lowering, including PCSK9-directed therapies, residual cardiovascular risk persists. Advances in human genetics enabling the identification of rare genetic variants with strong effects on ASCVD risk not only accelerated the development of therapies for severe dyslipidaemia, but also led to identification of novel pathways involved in the metabolism of other atherogenic lipoproteins, most notably triglyceride rich lipoproteins. These insights were critical to the application of a Mendelian randomization design to establish elevated plasma levels of these lipoproteins, as well as lipoprotein(a) [Lp(a)], as independent causal risk factors for ASCVD and thus potential contributors to residual risk. Understanding the underlying genetic and cell machinery has also provided impetus in treating rare dyslipidaemias.
The development of novel antisense therapies, including oligonucleotides and short interfering RNA-based strategies, addresses several unmet medical needs in lipidology. Among these treatments, those targeting apolipoprotein C-III or angiopoietin-like protein 3 have demonstrated substantial lowering of plasma triglycerides in the setting of moderate to severe hypertriglyceridaemia.
Despite the potential efficacy of these new therapies in ASCVD prevention, cost is likely to be prove a major obstacle to their clinical use. Affordability and access are therefore the key challenges facing the next generation of lipid-lowering agents in the era of precision medicine.
Key references
Ginsberg HN, Packard CJ, Chapman MJ, Borén J, Aguilar-Salinas CA, Averna M, Ference BA, Gaudet D, Hegele RA, Kersten S, Lewis GF, Lichtenstein AH, Moulin P, Nordestgaard BG, Remaley AT, Staels B, Stroes ESG, Taskinen MR, Tokgözoğlu LS, Tybjaerg-Hansen A, Stock JK, Catapano AL. Triglyceride-rich lipoproteins and their remnants: metabolic insights, role in atherosclerotic cardiovascular disease, and emerging therapeutic strategies-a consensus statement from the European Atherosclerosis Society. Eur Heart J 2021; doi: 10.1093/eurheartj/ehab551.
Ahmad Z, Pordy R, Rader DJ, Gaudet D, Ali S, Gonzaga-Jauregui C, Ponda MP, Shumel B, Banerjee P, Dunbar RL. Inhibition of Angiopoietin-Like Protein 3 with evinacumab in subjects with high and severe hypertriglyceridemia. J Am Coll Cardiol 2021;78:193-195.
Gouni-Berthold I, Alexander VJ, Yang Q, Hurh E, Steinhagen-Thiessen E, Moriarty PM, Hughes SG, Gaudet D, Hegele RA, O'Dea LSL, Stroes ESG, Tsimikas S, Witztum JL; COMPASS study group. Efficacy and safety of volanesorsen in patients with multifactorial chylomicronaemia (COMPASS): a multicentre, double-blind, randomised, placebo-controlled, phase 3 trial. Lancet Diabetes Endocrinol 2021;9:264-275.
Sotirios (Sam) Tsimikas, San Diego, USA
Sam Tsimikas is Professor of Medicine and Director of Vascular Medicine at the University of California San Diego (UCSD). He obtained his medical degree from the University of Massachusetts Medical School in 1988, completed training at the University of Massachusetts Medical Center in 1991, and then undertook separate fellowships in Cardiovascular Disease, Molecular Medicine and Atherosclerosis and Interventional Cardiology at the University of California San Diego from 1992 to 1997. Dr Tsimikas oversees a translational cardiovascular research laboratory focused on "biotheranostics" – biomarkers, therapeutics and molecular imaging. He is also Cardiovascular Franchise Leader and Vice President of Clinical Development at Ionis Pharmaceuticals, primarily focusing on the development of novel antisense compounds including those targeting lipoprotein(a) [Lp(a)], apolipoprotein (apo)C-III, and angiopoietin-like protein 3. He is a co-founder of Oxitope, Inc and Kleanthi Diagnostics, focusing on therapeutics and diagnostics, respectively, related to oxidation-specific epitopes. Dr. Tsimikas is a Fellow of the American College of Cardiology, the American Heart Association and the Society for Cardiac Angiography and Interventions.
Following decades of debate, lipoprotein(a) [Lp(a)] is now recognised as a causal risk factor for atherosclerotic cardiovascular disease and aortic valvular stenosis, supported by evidence from genetic, epidemiological and mechanistic studies. Until recently, however, final proof of causality has proved elusive as the available lipid lowering therapies either have minimal effect on Lp(a) or effects on multiple lipoproteins. The emergence of novel antisense treatments that specifically inhibit the synthesis of apolipoprotein(a) offers the key to addressing this enigma.
Advances in antisense oligonucleotide development, notably conjugation with N-acetylgalactosamine to direct the therapy specifically to hepatocytes, has resulted in improved affinity and selectivity. In phase 2 trials, this agent reduced Lp(a) levels by up to 80%, providing a basis for further development to investigate the impact of Lp(a) lowering on cardiovascular events. The major outcomes study Lp(a)HORIZON (Assessing the Impact of Lipoprotein(a) Lowering With TQJ230 on Major Cardiovascular Events in Patients With CVD) with the apolipoprotein (a) antisense oligonucleotide pelacarsen is testing the Lp(a) hypothesis in secondary prevention patients with elevated Lp(a) levels and optimally managed of low-density lipoprotein cholesterol levels. This trial will be pivotal to bridging the final frontier: Is Lp(a)-associated risk abolished by potent Lp(a) lowering? If proven, the results of Lp(a)HORIZON will be crucial for the development of paradigms aiming to improve awareness, diagnosis, and management of elevated Lp(a).
Key references
Tsimikas S, Moriarty PM, Stroes ES. Emerging RNA therapeutics to lower blood levels of Lp(a): JACC Focus Seminar 2/4. J Am Coll Cardiol 2021;77:1576-1589.
DeFilippis AP, Trainor PJ, Thanassoulis G, Brumback LC, Post WS, Tsai MY, Tsimikas S. Atherothrombotic factors and atherosclerotic cardiovascular events: the multi-ethnic study of atherosclerosis. Eur Heart J 2021: doi: 10.1093/eurheartj/ehab600.
Karwatowska-Prokopczuk E, Clouet-Foraison N, Xia S, Viney NJ, Witztum JL, Marcovina SM, Tsimikas S. Prevalence and influence of LPA gene variants and isoform size on the Lp(a)-lowering effect of pelacarsen. Atherosclerosis 2021;324:102-108.
Ira Goldberg, New York, USA
Ira Goldberg is currently the Clarissa and Edgar Bronfman Jr. Professor and Chief of the Division of Endocrinology, Diabetes and Metabolism at New York University School of Medicine. He received his undergraduate degree from MIT and his medical degree from Harvard Medical School. After fellowships in endocrinology and metabolism, and atherosclerosis and metabolism, he was appointed to the faculty of the Department of Medicine at Columbia University in 1983 and was Chief of the Division of Preventive Medicine and Nutrition and the Dickinson Richards Professor of Medicine. His research has focused on abnormalities of lipoprotein metabolism, macrovascular disease in diabetes, and the role of triglycerides in atherosclerosis. His awards include a MERIT Award from the National Heart, Lung, and Blood Institute. In 2017 he presented the George Lyman Duff Lecture of the ATVB Council.
Whether elevated triglycerides, a surrogate for triglyceride [TG]-rich lipoproteins and their remnants, are associated with risk for cardiovascular disease, has engendered much debate over the decades. Current thinking, largely driven by insights from genetic studies, supports this association although definitive proof is still lacking from major outcomes studies. In addition, the underlying mechanisms of the atherogenicity of TG-rich lipoproteins merit further study. Given that lipoprotein lipase (LpL) plays a central role in TG metabolism, and those genes that modulate its activity correlate with the risk of cardiovascular disease events, research has focused on LpL biology to address this latter question.
ElucidatIon of the structure of the LpL active protein and its interaction with other post-translational regulators has been an important step. Studies showing that LpL is active as a monomer challenged thinking that LpL inhibitors like angiopoietin-like 4 (ANGPTL4) and stabilizers like lipid maturation factor 1 (LMF1) act by disrupting or maintaining LpL in dimer form. These insights prompted interest in developing targets to block LpL to reduce circulating TG levels.
Involvement of LpL in the intravascular hydrolysis of TG-rich lipoproteins on the surface of capillary endothelial cells has driven research into the multiple pathways that mediate endothelial transit of lipids into tissues. There is evidence to suggest a role for receptor-mediated processes in the movement of lipoproteins into the sub-endothelial space. In addition, studies have identified factors that may influence endothelial barrier integrity and thus delivery of lipids.
Taken together, it is evident that improved understanding of TG regulation at the cellular level may offer new therapeutic potential for the management of elevated TG to reduce residual risk.
Key references
Goldberg IJ, Cabodevilla AG, Samovski D, Cifarelli V, Basu D, Abumrad NA. Lipolytic enzymes and free fatty acids at the endothelial interface. Atherosclerosis 2021;329:1-8.
Cabodevilla AG, Tang S, Lee S, Mullick AE, Aleman JO, Hussain MM, Sessa WC, Abumrad NA, Goldberg IJ. Eruptive xanthoma model reveals endothelial cells internalize and metabolize chylomicrons, leading to extravascular triglyceride accumulation. J Clin Invest 2021;131:e145800.
Abumrad NA, Cabodevilla AG, Samovski D, Pietka T, Basu D, Goldberg IJ. Endothelial cell receptors in tissue lipid uptake and metabolism. Circ Res 2021;128:433-450.